Restore the Rapids in the Grand River
Grand Rapids is a city with a legend written into its name. But the rapids in the Grand River haven't been seen for generations. They were flattened by a series of dams following the Civil War. Although Grand Rapids is thriving and became a tourist destination, its namesake feature is absent — the rapids are a lost legend.
We can change that.
The Grand River restoration project proposes to bring natural, cultural and commercial excitement back to our waterway by restoring a 2.5-mile stretch of the river to its rightful, rolling state. From Ann Street to Fulton Street, the project will reveal an 18-foot drop in spectacular fashion, snaking and snarling around boulders, stone and natural reefs. With this exciting feature at its heart, a new riverfront will rise. 
This is a chance to build a better present and future by honoring the past.
Add boulders and substrate
Install a new structure for flood control
Improve and protect habitat for fish and other species
Grand Rapids WhiteWater is a group dedicated to revitalizing the Grand River and putting the namesake rapids back in the Grand River for everyone's enjoyment.
Stop Invasive Sea Lamprey
Bring Back Rocks and Boulders
Stop Invasive Sea Lampreys
Ann Street to Leonard Street
To protect the rapids from invasive species, a mechanical barrier will be installed. The Adjustable Hydraulics Structure will look similar to this construction in Iowa.
Leonard Street to Sixth Street Dam
The city's historic namesake is being returned to its former glory. Once lost because of the logging industry, the rushing waters used to extend from Sixth Street down to Wealthy Street.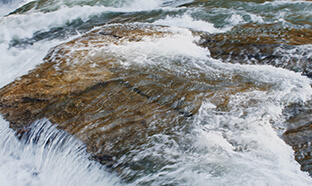 Sixth Street Dam to Pearl Street
Once the Adjustable Hydraulics Structure is complete, the five aging dams will be removed and the flow of the river will begin to take shape.
Return Rocks and Boulders
Michigan Street to Fulton Street
To complete the project, rocks and boulders will be imported to replicate the natural rapid habitat and provide recreational features.
The purpose of the organization is to recreate rapids that provide recreational and fitness opportunities to the general public, and to promote an environmentally sound design that will enhance the sustainability of fish, wildlife and natural resources within the Grand River.